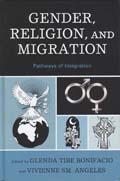 Glenda Tibe Bonifacio and Vivienne SM. Angeles (eds)
Gender, Religion, and Migration: Pathways of Integration
Lanham, Boulder, New York, Toronto, Plymouth, UK: Lexington Books, 2010
ISBN: 978-0-7391-3313-2 (hbk), ix + 304 pp.





Anthony Synnott
Re-Thinking Men: Heros, Villians and Victims
Farnham and Burlington: Ashgate, 2009
ISBN: 978-0-7546-7709-3 (hbk), 297 pp.